Welcome to Julia Cunningham where you will find a collection of bags, accessories and gifts that I have designed and made in my studio in the heart of the Scottish Borders. I work in traditional fine Scottish tartans and tweeds alongside beautiful printed linens and contemporary tweeds which are all locally sourced.
What are you looking for?
If you are looking for a handbag, scarf, purse or gift that is a bit special and a little bit different. That is practical but well crafted and fun to wear then you are bound to find something here. You will find products that make a special treat for yourself or that make perfect presents.
I create products that are contemporary, quirky and fun and these are often made from very traditional Scottish fabrics, tartan and tweeds. I use simple sewing techniques to produce good quality products that are sculptural and exciting for you to use and wear. You will hopefully find something that will suit your style and wardrobe. If cant find exactly what you are looking for then feel free to get in touch and we can discuss your requirements.
Style & Quality
Working mainly in fabrics locally sourced from textile Mills in and around the Scottish and English Borderlands. Fine Scottish Tweeds, Tartans and fresh printed Linens and cottons.
Scotland and England both have a rich history in the production of high quality woven and printed cloth, and are much sought after by designers through-out the world. There is an amazing history of this in the Scottish Borders although fewer Mills remain in production at this time making the fabrics just a little bit more special.
I have a beautiful collection of cloths that I have collected over a number of years including tweeds from Anthony Haines, Hinnigan, Lochcarron, Elliot, Linton Tweed and some Harris Tweed. I use these in my collections or you can come to my studio and choose for yourself and I can make you a bespoke bag to suit your requirements. You can also commission a bag in the tartan of your choice or have a bag made up in a fabric you have supplied.
Your bag will be made by me in my Studio in St, Boswells a beautiful small village in the heart of the Scottish Borders which is surrounded by the stunning Borders landscape and rich Scottish History.
My Collections
My accessories include Handbags, Scarves, Purses, Corsages and Brooches alongside my gift collection Frumpy Fairies, Cannie Men, key rings with Cushions to compliment the range.
My Handbag designs are all named around traditional Scottish words giving them a unique, descriptive and fun element that relates to the style and construction of the handbag. For instance, there are Skeeries, Fantooshes, and Peerie Poaks. They are often made in 2 sizes, "Wee or Muckle" and as a result, my trademark product is aptly named a "Muckle Fantoosh"
My handbags have travelled the world with customers in France, Sweden, America and Japan. I was invited to Japan to the cities of Hakata and Osaka for the Hanku department stores British Fairs to demonstrate my sewing skills. This was an amazing opportunity and included a Japanese film crew coming to my studio and village to make a TV commercial for the fairs. I flew to Japan for 10 days and was made made very welcome at both the fairs. This forged links between my company and Japan and I now have customers who come and visit when they come over to Scotland.
"Thought this rucksack deserved some travelling and the colours suited being in France" Nicola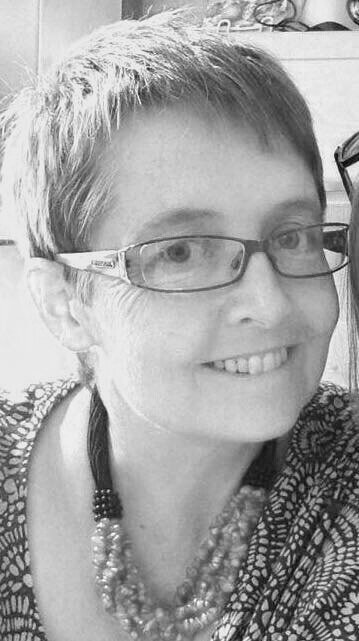 Let me introduce myself, my name is Julia Cunningham and I am lucky enough to live in the beautiful village of St Boswells in the heart of the Scottish Borders which is on the banks of the River Tweed. With its village green, cricket club, award winning book shop, restaurants and village shops. It is a stunning location to bring up my family and run my business with my two cats.
I was brought up with my mum making some of my clothes and teaching me to hand sew, my granny knitting dresses for my dolls. When I received a sewing machine in my teens it pushed me on further to follow my mum and continue making.
When I left school I went on to study and become a qualified Home Economist and for many years worked with adults with learning difficulties until I had a family. In 2006 I started up my own business working with textiles making handbags and Fairies from a tiny room in my home. In 2015/16 my husband designed and built a studio for me to work from, in my garden.
I love color and the texture of cloth especially tweeds, tartans and prints. You can see this through out my work. I am always striving to improve the quality of my collections and keep them original and interesting with an element of fun.
Apart from my family and business my other great passion is bikes and you can often find me cycling around the borders, taking photographs and enjoying the beautiful landscape and historic buildings that I am lucky enough to be surrounded by.